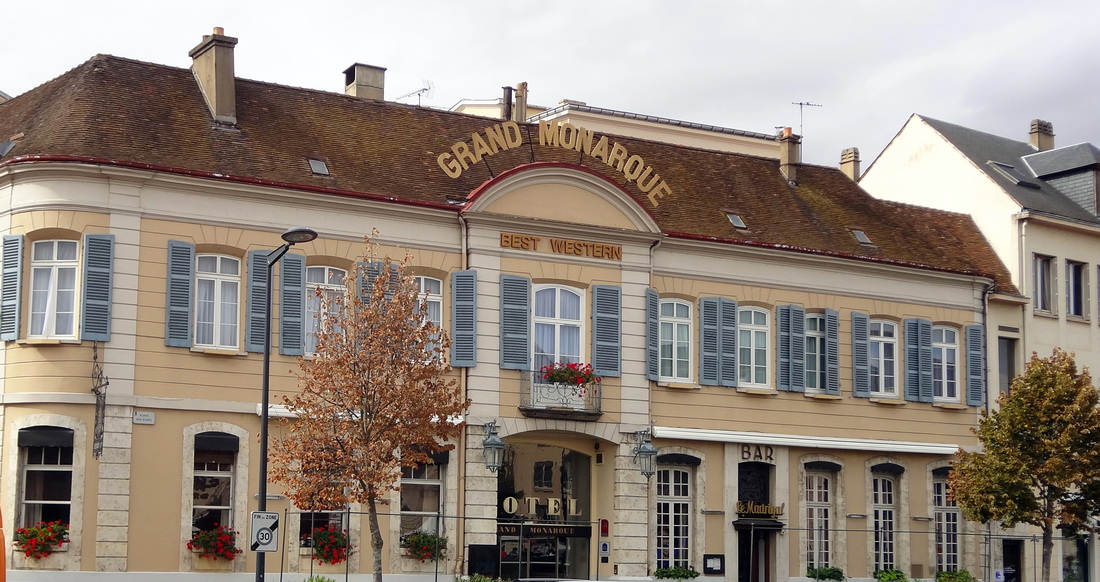 During the planning efforts of our trip to visit the Chateaux of the Loire Valley southwest of Paris we selected the city of Chartres as one of our bases of operations. Chartres was one of three cities/towns that we used as base stations from which to explore a number of the magnificent chateaux within the Loire Valley area. A couple of months before arriving in France we reserved a suite at the
Hotel Best Western Grand Monarque
in Chartres for the upcoming trip and it was a good thing that we reserved early as by the time that we arrived at the hotel it was completely booked. This hotel is within easy walking distance (5-8 minutes) to restaurants and pubs in the old city center and to the Cathedral Notre-Dame de Chartres. The hotel has 50 rooms and five suites in addition to having two restaurants and a really nice bar. We were in the hotel for a Friday and Saturday night and we ended each evening at the hotel bar (The Madrigal Bar Lounge). The bar has live entertainment in the form of a very good jazz duo on Friday nights but nothing on Saturday nights. After immensely enjoying the jazz on Friday I was rather disappointed to find that there was no entertainment the following night.
The suite that we stayed in was very spacious and nicely appointed. It consisted of the bedroom with a very comfortable king size bed; the bathroom which offered a generous soaking bath tub and a very large stand alone shower with a rain shower head that provided a terrific and relaxing shower; and finally it had a great sitting area which was separated from the bedroom.
It is important to note that in the event you plan to arrive via car be prepared to be flexible in attempting to drop off your luggage as there is no place to stop a vehicle in front of the hotel and the narrow road beside the hotel lacks space to temporarily stop also. However, the staff is very accommodating and they will help you get through this hassle. This parking situation turned out to be only a minor inconvenience.
The only disappointing aspect to our stay at this wonderful hotel was the breakfast that we had in the restaurant on Sunday morning before checking out. Up until that breakfast we had been so impressed with the hotel that we naturally expected a very nice experience at the mealtime. However, the selection of foods offered was less than that offered by any of the previous three hotels that we stayed at during this trip and the presentation of the food left something to be desired.
Please don't get hung up on the negative comments about the breakfast because in the overall scheme of things it was basically inconsequential. If in the area again I would definitely love to stay at this hotel again and would be extremely pleased to stay in the same room. I highly recommend this hotel to all of you that will be traveling to Chartres.