by James Taylor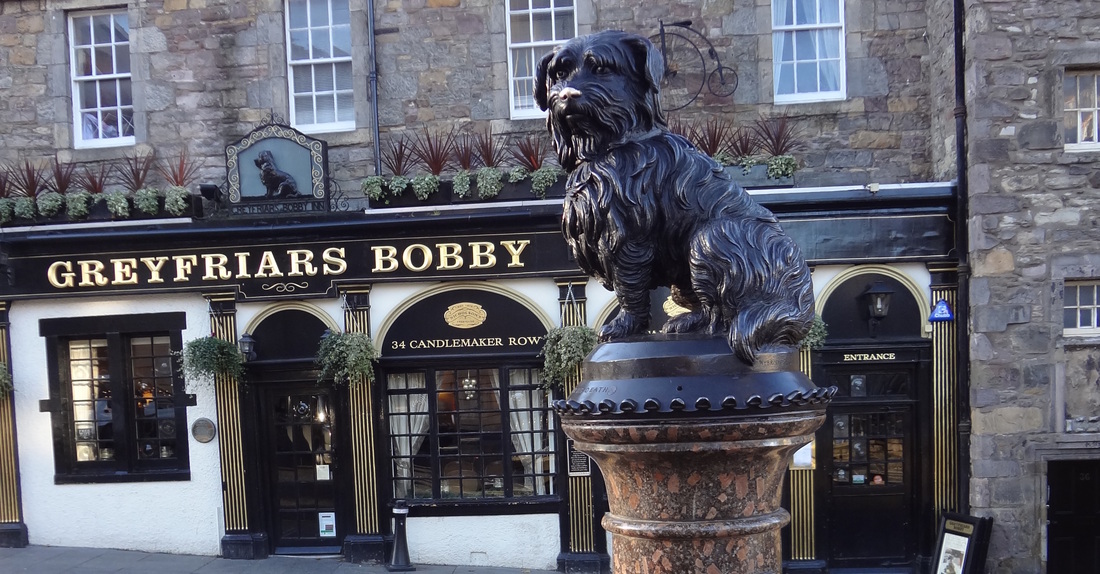 Prior to our trip to Edinburgh my research revealed a charming story about a faithful dog that remained at his master's grave site for many years until he also died and the pub that was named after him. This wonderful story is what made us decide that we had to make a visit to this unusual grave site and the pub named for the story.


The dog's name was Bobby and his master was John Gray, a Constable in Edinburgh during the mid-1800's. When Gray died, poor lonely Bobby remained guarding his master's grave for fourteen years till his own death in 1872.


Greyfriars Bobby Bar
is located at the top of Candlemaker Row which is a narrow street named after the original craftsmen who plied their trade on this street and is right next to Greyfriars Graveyard where John Gray and Bobby are buried. A statue of Bobby is mounted on a pedestal directly across from the pub.
The nose of the dog's statue has been rubbed so many times that it shines. The superstition is that rubbing the nose brings good luck. The story is fascinating especially if you like dogs. If you are interested in reading more,
click here: Greyfriars Bobby
The exterior of the bar is charming with its cream front accented by dark timbered trim and cottage stone upper floor.
Upon entering, you immediately see the same cozy atmosphere inside. The pub area is separated from the restaurant seating area, by a small alcove space where the actual bar is located. We sat in this small alcove area and ordered drinks. You purchase the drinks at the bar and take them to your table which is typical in many pubs in the U.K. The bartender was friendly and provided assistance by recommending particular ale which turned out to be very good.


I highly recommend that if you're in Edinburgh that you should go to this pub, enjoy a drink or meal and see Greyfriars Bobby's statue and be sure to visit his grave located in the graveyard behind the pub!