Even if you Aren't a Big Wine Collector: Bring Home a Few Bottles of Your Favorite Vintages!

One of my favorite parts of traveling abroad is bringing back interesting wine, but Jim and I rarely order a whole case for delivery back in the states. Instead, we pick up a variety of wines limiting ourselves to a half dozen bottles total. We divide these among our suitcases for the trip back home.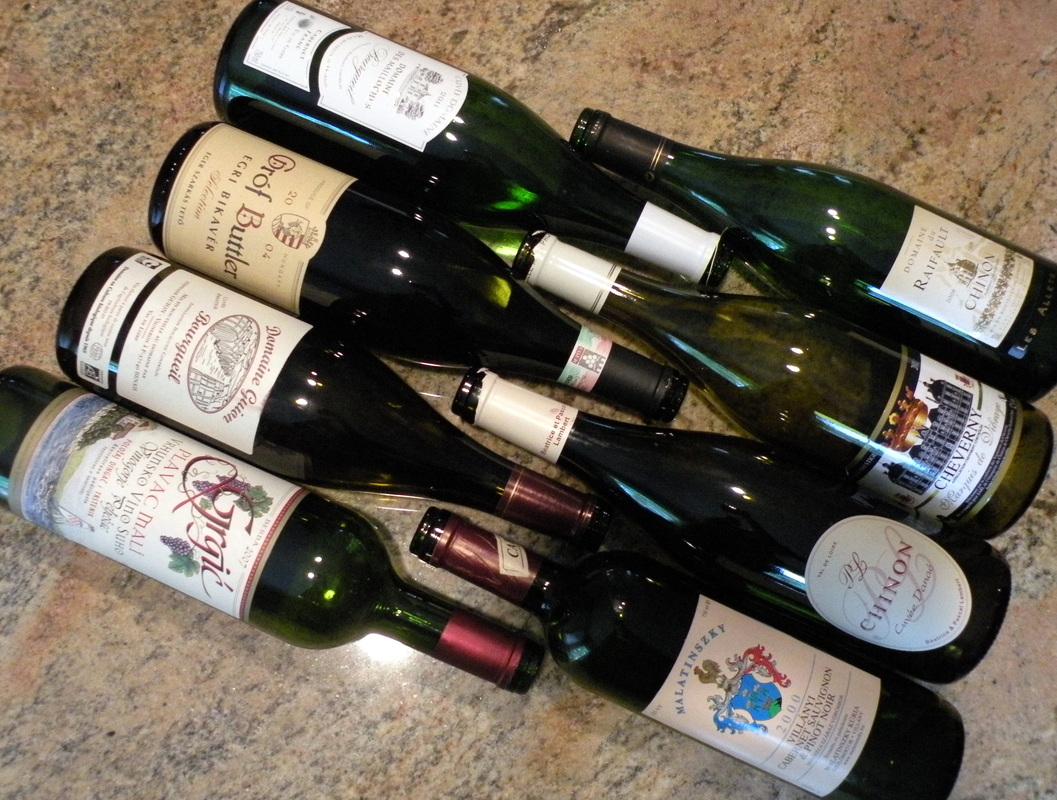 Over the years, through trial and error, we have perfected our wine toting procedure. We had pretty much done all the wrong things before getting to this point of course.

Here are things you DON'T want to do……

<Don't bring put any wine or liquor into your carry-on bag. It will be confiscated at security.
< Don't wrap the bottle in newspaper or use the divided cardboard boxes. These do NOT provide enough padding to keep glass from breaking and will get all over your clothes.

Here is what you DO want to do…..

<Line your suitcases with a few pieces of bubble wrap before you pack to leave on your trip for use in wrapping bottles later.
<Be sure to include a roll of masking tape in your suitcase also so that you can secure the bubble wrap.
<After you have wrapped your bottle in bubble wrap, be sure to pack it along the most protected part of your bag cushioned by lots of clothes.
<Be sure to check out the import limits for alcohol for your country of origin. It would be a shame to have to gift your fine wine/liquor to some customs agent.


Now that you know how to get your wine safely back, let me tell you about a few of the great wines we have brought back with us!


During our drive through the Loire Valley we bought several wonderful wines:

We bought these during a wonderful tour of the Cave du Pays de Bourgueil:
Domaine Guion 2010 – Bourgueil
Domaine Des Mailloches 2011 – Bourgueil

These wines come from vineyards planted only Cabernet Franc. Like other wine regions in the Saumur region, Bourgueil has mostly a continental climate with some maritime influences that are more evident the further west you go. It is situated on the right-bank of the Loire River and is based on three types of soil: sand, gravel, clay and limestone which gives rise to wines that are generous and distinguished.

As mentioned above, the Domaine Guion wine is 100% Cabernet Franc but it particularly also has had some oak treatment. This is a fine, savory wine with lovely tannins and good length on the palate. There is a streak of acidity running through this wine that will ensure that it will last for many, many years.


We bought this delicious wine while touring the Chateau de Cheverny
Cheverny Controlee – Marquis de Vibraye 2011

Cheverny and Cour Cheverny have produced wonderful red and white and rose wines for many centuries but it is only since 1993 they have received their own appellation. The appellation regulations dictate Sauvignon-dominated whites (the grape must account for 60-85% of the blend), blended with Chardonnay, Menu Pineau (a little-known cousin of Chenin Blanc), and Chenin itself. This white wine has a citrus finish and is light and refreshing.


We tasted and bought this at Cave de Montpaisir.
Domain du Raifault 2008 Chinon

The nose is very fresh, with shades of peppermint, blackcurrant and violet. The palate is light despite sustained extraction of tannins. This vineyard is located on the land of Véron, characterized by the presence of light and sandy alluvium soil. While we really enjoyed the wine, we didn't like it as much as the Bourgueil wines.


This one we tasted at a wine shop called Cave Voltaire in Chinon and fell in love.
Cuvee Danae 2008 Chinon

This wine is produced from an organically farmed vineyard (Cabernet franc grapes only) on the appellation Chinon. The vineyard is naturally protected and fed with home-made compost, and biodynamic herbal infusion. In autumn, grapes are always picked by hand. In the winery, the fermentation is natural and they don't add yeast or chemical products. Maturing is adapted to the different soils. This wine is produced from Clayey and flint soils on the top of the hillside, with the taste of « terroir ».

Made from older vines, it possesses more concentration, a denser purple color, and more blueberry and black raspberry fruit notes intermixed with notions of flowers. This wine was full-bodied and loaded for a Cabernet Franc from Chinon. We were told that 2008 turned out to be a wonderful vintage after a worried start weather-wise.


During our visit to Dubrovnik in Croatia, we bought this amazing local Croatian wine produced by famous the famous owner/vintner of Grgich Hills winery in Napa, California.
Grgic – plavac Mali – Vrhunsko Vino Suho 2007

The fame of Miljenko Mike Grgic began in 1976 when he was the chief enologist in Chateau Montelen winery in Calistoga, Napa Valley. This master made a Chardonnay that, to the great surprise of the entire winemaking world, beat all French Chardonnays at the blind tasting in Paris.

In mid 1990's Grgic, renewed the plantation of Plavac mali on Peljesac. This is an amazing wine from the Croatian star grape Plavac Mali, a cross between Dobricic and Crljenak (Primitivo/Zinfandel) both of which do not exist as wine grapes anymore commercially.

This wine has a dark, deep ruby color with a purple shade and high sediments. It has a pronounced nose, very rich and layered, and has ripe black cherry notes accompanied by sweet spices and blackpepper. It is full and tannic but rich in fruit on the mid palate with good acidity.


Malatinszey Villany, 2000

Csaba Malatinszey is the son of a nobleman, and his family had owned vineyards before World War II but, like so many, lost everything to the state. He started his career working in a restaurant in Budapest and became Hungary's first qualified sommelier, then opened its first specialist wine shop in 1993.

Attracted to Villány for its potential for reds, he bought his first vineyards in 1997. Malatinszky's winemaking is notable for his fanatical attention to detail, even selecting his own yeast strains.

This wine maker has become famous for his Cabernet Franc vintages, but we got a hold of a Cabernet Sauvignon & Pinto Noire blend which was harmonious, balanced and complex which we thoroughly enjoyed.
We picked up these two wines in Budapest Hungary
Grof Buttler – Egri Bikaver 2004

Bull's Blood, or Bikaver, flows through the veins of the Eger wine region in north-eastern Hungary. It is also known as Bikaver Egri. It is Hungary's most famous wine, an historic red wine made since the 13th century that rose to international fame and fortune in the 1970s.

The red blend is made up of Kadarka, Blauburger, Cabernet Franc, Cabernet Sauvignon, Merlot, Kekmedoc, Zweigelt and Pinot Noire grapes. All of these varietals are supposed to be in each blend, but no more than 50% of any grape may be used.

Ruby red in color, it smells of blueberry, blackberry, plums, truffles, leather, black pepper and cinnamon notes. This wine has a dry, lively, and robust-bodied taste.

We hope you get a chance to bring home a few of your favorites too!